This is an idea that I had since the FBI was Keli's, but after that "Trashing" and all other things that happened I wasn't able to formally announce this idea.  I used to do these writing in the previous forum but it's all gone now :(this is the first one in the new forum

Recently I saw few people saying that they don't know all the tags that exists in <F.B.I>, and therefore while FTSing they frequently have to ask people to whisper the three basic rule of <F.B.I>.  In addition, people can't be exactly sure if their tag is original or not when they make their own promotion tag.
The most fundamental idea to solve this is a
Promotion Tag
.  The idea of making this has come out quite a few times in the previous forum, but no one has really started an action because "it is too much work".  In fact, Luis has made a tag list once, but it is out dated, or maybe has been deleted.

My solution to this problem is to make a web fill out sheet.
 I made a sample to show you how it works;
https://docs.google.com/forms/d/1xqUPBoNWdRQX4E0yxtpf7-058m-q8S7_ZB7ygIcvjEo/viewform
and if you enter your data in the information will be displayed like this on a spreadsheet;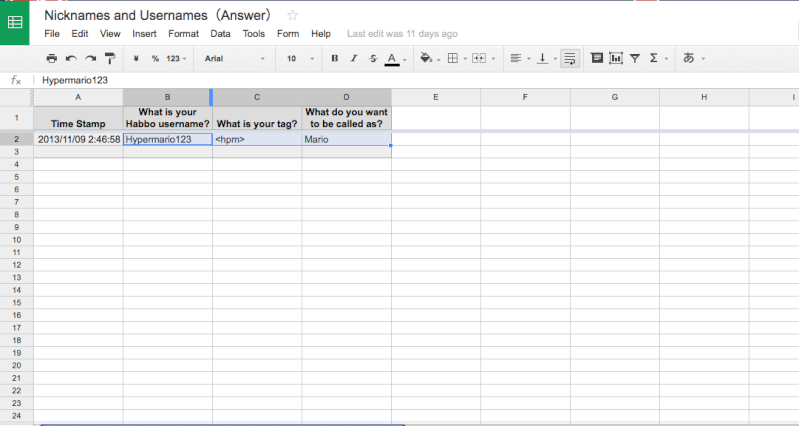 The entered data can easily be ordered in an alphabetical order as well.
If we use this the problem of "too much work" will be solved.  We can set a deadline for all the Tag hoders to enter their promotion tag.  After the deadline, we can easily copy-paste the information on a private board, so that the account holders of FBI can have an access on it as a great reference in work.
Some people might have a concern about the promo log being out-dated, but that is not a problem.  We can easily re-create another fill out form and make a new one!
I am waiting for everyone's response/questions to this!!  If I have the TM's approval to start the action, I will be happy to take an initiative and start working on it

Please Leave Your Feedback!!  Yay or Nay??  Why??  Any Concerns??
Thanks,
Mario